Making sense of assets: Community asset mapping and related approaches for cultivating capacities
Working paper by Giota Alevizou, Katerina Alexiou and Theo Zamenopoulos
With contributions from Melissa Butcher, Myria Georgiou, Mihaela Kelemen and Martin Phillips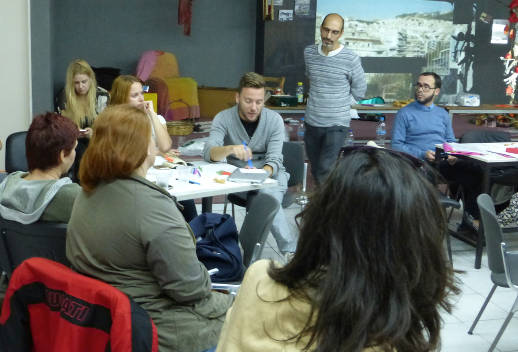 This working paper critically reviews some main aspects from asset based approaches highlights key strengths and weaknesses for future research/development. Drawing on a large body of reports and relevant literature we draw on different theoretical traditions and critiques, as well as practices and processes embedded within a broad range of approaches including, widely acknowledged frameworks such Asset Based Community Development (ABCD), Appreciative Inquiry (AI), Sustainable Livelihood Approaches (SLA) and Community Capitals Framework (CCF). Although these are presented as distinct approaches, there is a sense of evolution through them and many of them overlap (in terms of both theories and methodologies). We also include emerging frameworks, including geographical, socio-spatial, visual and creative approaches, stemming from a number of projects within AHRC's Connected Communities programme and additional collaborations.
Our primarily objective have been to collate and compare insights relating to:
the theoretical premise of asset based approaches
the types of assets captured by existing approaches, and the processes/approaches to 'mapping' they deploy
the contextual conditions that asset based approaches seek to address
the strengths and weakness of specific approaches for supporting not only incremental and smaller scale changes, but also, for creating the conditions to support wider, or systemic issues and problems
Insights from the approaches, methods and case studies we provided, suggest that asset-based approaches within communities may help generating a "reinforcing cycle" that builds on cultural recognition, social networks as well as routes to solidarity, collaboration and collective visioning or action. While we have pointed to aspects of creative engagement and the possibilities they open to micro-civic acts and cycles of symbolic recognition and self-organisation, we have also highlighted challenges stemming from essentialist premises, and stressed and importance of considering community capacity building frameworks in relation to wider systemic and societal contexts. Insights from research and practice also warn against specific assumptions concerning 'community' lacking a deep understanding of conflict, competition and controversy. Asset mapping approaches must therefore acknowledge the dialectical connections between collaborative forces and self-serving interests in communities, addressing these tensions both from a sociological, cultural and geographic framework.